A day in…Red Hook, Brooklyn!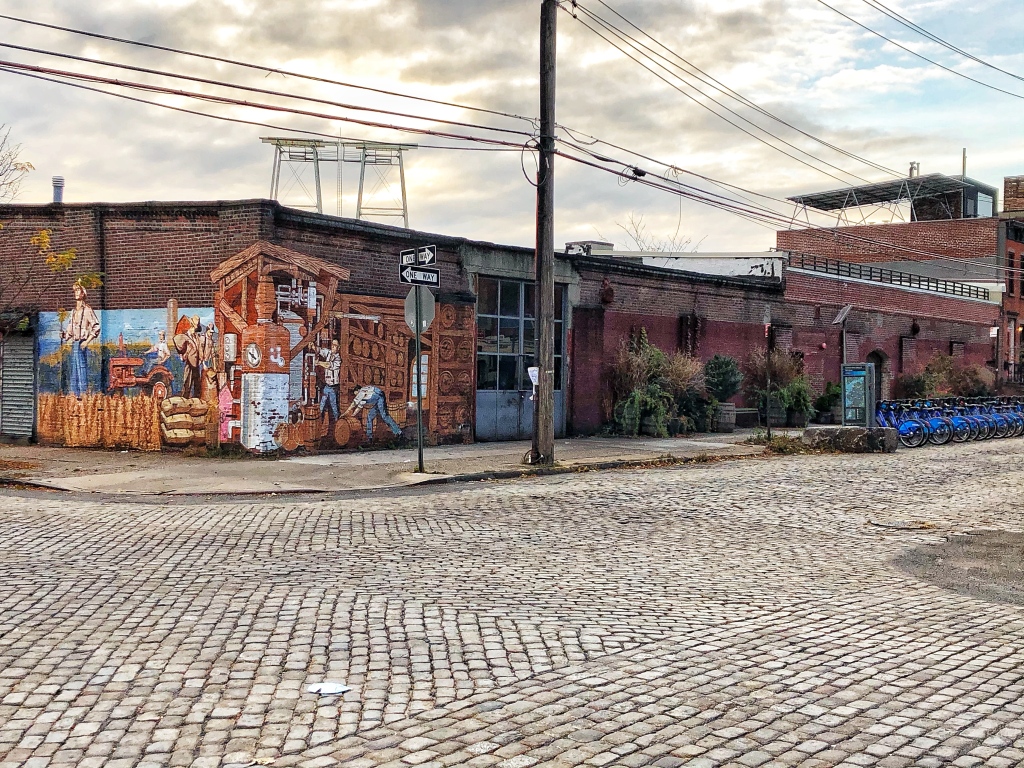 Red Hook's waterfront cobblestone streets give this refurbished neighborhood the ambiance of a quaint, seaside town. It is the home to numerous pre-civil war maritime warehouses converted to art galleries, restaurants and Ample Hills, Brooklyn's favorite ice cream shop.
Red Hook was settled by the Dutch in the 17th century. During the American Civil War, Red Hook was the location of Fort Defiance, and later was a hub for international trade. Remnants of this era are still evident today.
Eventually, the bustling shipping industry went elsewhere, and Red Hook went into disrepair in the 1950's with the creation of the Brooklyn Queens Expressway ("BQE") and Battery Tunnel which cut the neighborhood off from the rest of Brooklyn. Red Hook is also home to one of the largest public housing complex in New York City, having over 2,800 apartments; one of which is the birthplace of basketball player Carmelo Anthony.
Red Hook is a peninsula jutting out into Upper New York Bay. It is distinct for its equal parts of fisherman's village, artist enclave and rehabilitated multi-use warehouses. While Red Hook can be enjoyed any time of the year, the best time is during the warmer months from April through October.
Transportation: my favorite means of transportation to Red Hook is either by ferry or bike. Here is a one-day itinerary:
Morning:
Start your morning off at the quaint pastry shop, Baked (359 Van Brunt St), for coffee and a pastry. To burn off the pastry, walk the three blocks to Louis Valentino, Jr Park where you can rent free paddle boards and kayaks through the Red Hook Boaters during summer months. Spend a few hours taking in the breathtaking Panoramic views of the Statue of Liberty, the Manhattan skyline, and the Brooklyn Bridge.
After kayaking indulge in a slice of key lime pie from Steve's Authentic Key Lime Pies. The family owned business has been around for 23 years. The proprietor and namesake, Steve ensure quality by using fresh squeezed limes and homemade crust.
Window shop along Van Brunt St. Red Hook is home to a number of boutique stores, art galleries and even a record shop.
Sip some whiskey with a tasting at Van Brunt Stillhouse (6 Bay St, Tasting room hours: 2-9 on Saturday or 2-8 on Sunday, Tours 3-7PM on Saturdays) and/or Widow Jane's (218 Conover Street Tasting room hours Sat and Sun 11-7, Tours 12, 2, 4, and 6pm). Soak up the malted barley with a lobster roll from the Red Hook Lobster Pound.
Early Evening:
If it is the second Sunday of the month check out Pioneer Works, an artist run community center. Located in a former Iron Works building from the 1800's that has been redesigned. They host free 'Second Sundays' with music, food, and a cash bar. Visitors are able to see the artists-in residency at work. More information can be found by clicking here. Most of the artists utilizes the cross section of technology and art, so don't expect typical paintings instead its virtual reality-esque projections and social justice themed artwork.
Red Hook has two iconic dinner spots:
Hometown BBQ (454 Van Brunt St), offers southern style pit smoked meats.
Brooklyn Crab (24 Reed St, Brooklyn, NY 11231) three story seafood shack with corn hole and mini golf on the ground level. If you already got a lobster roll, I would go for the BBQ!
Evening:
After dinner relax with a movie under the stars back at Valentino Pier. At 8:30 PM in the summer, the Red Hook Flicks screens different movies on the pier.
Savour a nightcap at Sunny's:
As the website accurately describes it, the "knickknack-adorned Red Hook saloon that's been around in one guise or another since the 1890s. Live music is a staple at this Brooklyn landmark."
Other unique bars, that are enjoyable with a group of friends: Brooklyn Winery (with great sunset views) and Sixpoint Brewery.
If you enjoy learning more about Brooklyn, consider checking out some of my A Day In itineraries in Crown Heights, Prospect Heights and Downtown Brooklyn.