The ultimate long weekend in Barcelona: 3 day itinerary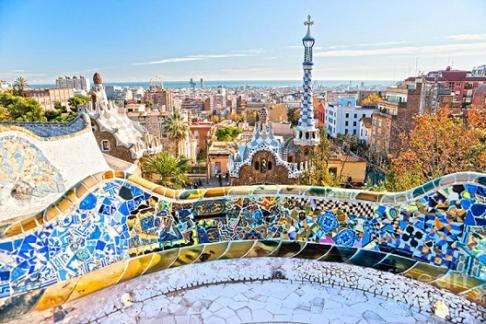 Barcelona, this vibrant coastal city buzzing with life, has long been one of my favorite cities in the world. The Catalan architect, Antoni Gaudí, modernized the city with colorful and eccentric buildings such as Casa Batllo, La Pedrera, and the Sagrada Familia church that add to the enjoyment of Barcelona make it more memorable. This unique city offers much on the arts, food, beach, and nightlife scene. It has something to satisfy every type of traveller.

Barcelona, the Catalan capital was originally founded by the Romans as a walled colony named "Barcino", and some of the ancient walls are still visible in the city center. The narrow medieval maze of the Gothic Quarter (Catalan: Barri Gòtic – Spanish: Barrio Gótico) bears witness to the economic boom of the Middle Ages, when Barcelona was the political and economic center of the Western Mediterranean. The Gothic Quarter makes way to the bohemian El Born neighborhood which was created as an expansion of the walled city in the 1500's. These historic sites are meant to be explored on foot.

Barcelona was in the forefront of the artistic movement of the 20th century, following an economic and cultural expansion during the textile industry in the 1800's. Notably, in 1862, Hans Christian Andersen remarked that Barcelona was the "Paris of Spain". It is no wonder that many members of the nomadic "Lost Generation" were frequent visitors to Barcelona for literary inspiration as well as binge drinking. The Barcelona waterfront area bubbles with life offering a spot for sunbathers, a strip of nightclubs for night owls, and a beautiful stroll to be explored on foot or bicycle. Enjoy a café con leche or signature churros con chocolate in one of the numerous cafes. Many of the cafes are called "granjas" and one can image Picasso, Dali and Hemingway creating the artistic vitality that Barcelona is still known for today. The passionate Spanish are stereotypically known for their love of the 5 F's: food, family, fútbol and fiesta, and I can jump on board with that.

I would recommend reading The Shadow of the Wind by Carlos Ruiz Zafón, which is set in Barcelona around the end of the Spanish Civil War. I would also recommend watching Vicky, Cristina Barcelona starring Scarlett Johansson, Rebecca Hall, Javier Bardem, and Penélope Cruz, which also has its setting in Barcelona.

Accomodation and transportation: I have generally been able to find flights from NYC for $400 round trip. I would opt to stay in El Born, the Gothic Quarter, or stay in larger Eixample neighborhoods. Much of Barcelona's city center is meant to be walked and staying in one of these neighborhoods will ensure that you are able to walk down the winding alleyways, or saunter through some of the numerous palm-tree-lined squares. The subway system is extensive and easy to use, and you can get multi-trip passes (I would recommend the T10 for ten trips).

Timing: The weather is best from April until October, and I personally prefer travelling on the "shoulder" seasons, meaning September/October or May/June, to avoid the crowds. I would also recommend going to the festival of La Mercè, which is held at the end of September. Check out World on the Whim's blog post about La Mercè. Another fun festival is the Festas de Gràcia, which is held in August, where each street of this lively neighbourhood is completely transformed based on a different theme.

Bruin on a Budget: Bring a student or teacher ID and see if it works for discounted prices. At some locations you must be from the EU, but others accept any form of ID.

Warning: When walking on Las Ramblas, be on alert for pickpocketing. For men, I would recommend putting your wallet in your front pocket, and for women I suggest carrying a purse zipped and in front of you.

Without further adieu here is my 3 day itinerary for Barcelona:

Day 1:
Start at Plaça Catalunya. Walk south down the pedestrian boulevard, Las Ramblas, which runs from the city center to the port, and is bustling with life. It is lined with street performers, flower stalls, and pushcart vendors offering various trinkettes. Along the walk you will see the Font de Canaletes, a famous wrought-iron fountain, which, legend says, if you drink from it you are destined to return to the city. This is the fountain Barça supporters go to for celebrating championship titles. Continue on Las Ramblas to breakfast at Pinotxo Bar in La Boqueria (full name is "El Mercat de Sant Josep de la Boqueria") an open-air market. I like to stock up on fruit from the market for later consumption.

Spend a leisurely morning strolling down Las Ramblas and into the Gothic Quarter. Take time to visit the Cathedral, Plaza Real, and the Palace of Music. The Gothic Quarter has storefronts with wares that overflow into the street. The same neighborhood can seem dark and moody, but still safe, in the evening, reminding a tourist of its Medieval history.

Take a break at Caelum (Carrer de la Palla, 8), a former women's bathhouse now converted to a tea parlor. If you want something sweeter, you will have to try churros con chocolate, a Spanish donut served with dipping chocolate, and a Barcelona favorite! I love Granja M Viader, a cafe located off Las Ramblas in the Raval neighborhood. This stately restaurant, which has been running since 1870 and has been passed down for five generations, serves breakfast, lunch and dessert. You may also want to take a walk down Carrer de Petritxol, a quaint street in the Gothic Quarter, which has many pastry shops to choose from, and La Pallaresa is another favorite bakery for churros y chocolate.

In the afternoon take a trip to the Picasso Museum (if you are a fan). It is located in the Born neighborhood. I would recommend making reservations online to avoid a long wait. Additionally, you may want to pack some snacks and visit the Parc de la Ciutadella (Citadel Park.) Park Ciutadella, a magnificent park for picnicking. After, you can walk up to the Arco de Triunfo (Arc de Triomf).

After all this you may want to plan for a well-deserved siesta.
For Saturday evening, head out for a sunset drink on the Catalan Art Museum's terrace. The museum is free on Saturdays after 3:00 PM, and entrance to the terrace is 2 euros. Don't miss the "Magic Fountain," a light show beginning every half hour starting at 9:30 PM, on Thursday through Sunday, from May to October. The Spanish do not eat dinner until 9:00 PM so head over to the Gothic Quarter, Born, or Gràcia neighborhoods for dinner.

If you are interested in the clubbing scene: Barcelona has numerous popular places and among the favorites are: Razzmatazz, Pacha, La Terrazza, ShÔko, and Opium. They name their nightclubs as randomly as celebrities name their children.


Day 2: The Modernist Day
Start your day off at Gaudí's Parc Güell, with its much photographed and instagrammed mosaic benches and salamander stairway. The €7 entrance fee for the park also includes access to the museum. There is superb vantage point of the city (I believe it may actually be a cross).

From Parc Guell take a winding 1.6 mile walk (or taxi ride) through the Gràcia neighborhood to Casa Milà or La Padrera ("stone quarry"). En route, stop to view the exterior of Casa Vicens and Casa de les Punxes. When visiting the interior of Casa Milà, take note of the ornate roof. From there, it is a 5 minute walk to a block of Gaudí houses: Casa Batlló, Casa Morera, or Casa Amatller. From early June through mid-September you can listen to jazz on the rooftop of La Pedrera.Find the information here.

Stop for lunch in the Gràcia or Eixample neighborhoods. A personal favorite is Napa, a Catalan restaurant with great service and reasonable prices.

Take a taxi or metro to Gaudí's masterpiece, the Sagrada Familia Church.

Evening: enjoy a leisurely paella meal or go tapas-tasting around a few different restaurants.

Day 3:
For fun and exercise other than walking, rent a bicycle for two hours. Rental bikes are available at Passeig de Joan de Borbó, down by the Barceloneta metro stop. (Directions: From the metro station, cross the busy street towards the water and continue for about 10 minutes down the street to the rental place. The location is well-situated for a beautiful bike ride along the water to see the port.

You may want to mix in with the locals at a hole in the wall called Can Paixano (Calle de la reina Cristina, 7). You can order a bottle to split between you and a friend and it comes with two tapas. Roset (or pink champagne) is my favorite, along with the croquetas, fried cheese or ham.

From Barceloneta you can take the scenic funicular to Monjuic and spend the day roaming around the Olympic stadium, museum, and castle.

If you want to get out of the city you can take a day trip to the mountaintop monastery of Montserrat or the coastal town of Sitges. Both are great half-day trips, if you have the time. Montserrat has a boys' choir who perform everyday but Saturday, so try going on a Friday or Sunday to hear them. Montserrat is serene and peaceful and has a farmers market with fresh local produce. Hiking to Montserrat is a full day trip, you can walk from Monistrol de Montserrat (a town below the mountain) up to the monastery and then up to the top of the mountain, at about 1237m above sea level.
Cafes:
Basically every café can be fun and the people-watching can be interesting for visitors to Barcelona. You must at least try café con leche (even if you don't like coffee) and hot cocoa and churros. You also need to try goffrees (fried waffle-type things with ice cream on top). Here are a couple of suggestions for cafes:

Café de l'Òpera: This cafe, known for its old world charm, is probably the most famous cafe in Barcelona. It is located on La Ramblas, on the left side of the street if you are walking from Plaça Catalunya towards the water. I highly recommend a visit.

Café Zurich: This cafe has a great location at the corner of Las Ramblas and Plaça Catalunya, with outdoor seating. A must-visit place during good weather, as it is perfect for people watching and for taking in the street scenes. Good for coffee and a snack, not the best place for connoisseurs of fine food.